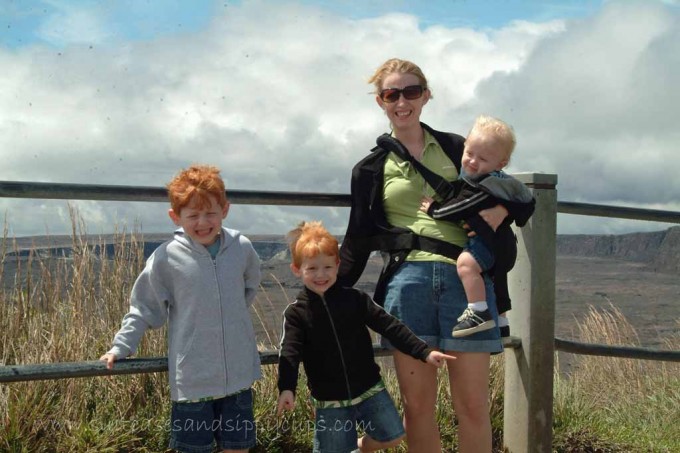 A trip to Hawaii means a trip to Kilauea National Park to see the ever changing volcano and its surrounding landscape. When we booked our tickets to Hawaii, we knew this would be at the top of our list and that we specifically wanted to hike the trail that would allow us to get within about ½ mile of the point where the active lava was spilling into the sea. Traveling with three children five and under didn't even factor into our decision making-we wanted to see the best of what the National Park had to offer and so we proceeded to the head of the trail and stopped to talk with the Ranger about our destination.
Never before have I been given such a head to toe inspection. He looked at our feet (we were wearing sandals) and then he looked at that baby on my hip, and then he looked back at our feet again. Then, I think he recounted the three small children just to make sure he hadn't misunderstood.
Then, he spoke and when he did, he didn't even bother hiding his disdain. "It's a 2 ½ mile hike. You are never going to make it!" I smiled and nodded and thanked him profusely (because that's what proper Southern women do) and I marched off in the direction of the hike I was never going to make.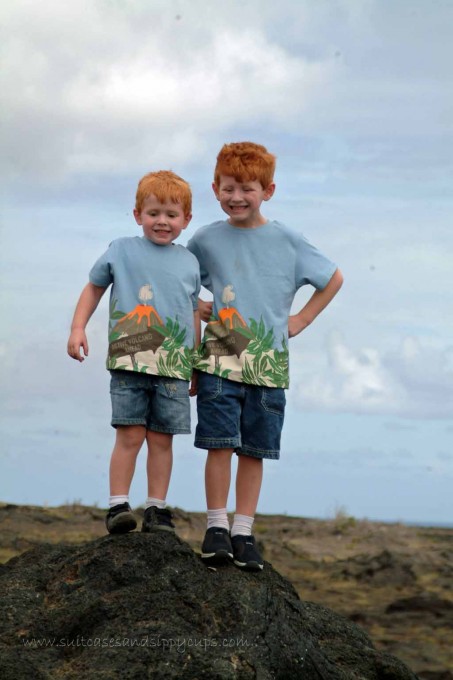 If I was to look at our motley crew from an outsider's perspective; I would have probably come to the same conclusion. Sure, we looked unprepared. We weren't wearing hiking footwear, and it didn't look like we had enough water. At least we were wearing sunscreen, but he didn't know that. But, I think Mr. Doubting Ranger would have overlooked all of that if it hadn't been for the children. Adding the children pushed us from naively ill-prepared to handicapped. Hmmmph! How dare he underestimate me and my children? He didn't even know us!
With a smile on my face (and a righteous indignation to drive me forward), I looked at my two small hikers and the precious baby on my hip and reminded myself that there was a lesson to be learned and I was going to be the one choosing the lesson, not Mr. Ranger. "Let's go kids," I declared without a moment's hesitation. "It's going to be a long walk, but I believe that we can do it. We came all the way across the ocean to see where the lava meets the sea and I don't want us to miss it!"
They didn't need convincing, of course. There is nothing better if you are a little boy than scrambling over the hills and valleys of hardened, black lava. And it was a long walk, but it was a fun walk. Whenever we grew tired, we stopped to check out the little pools that had filled with water in the lava or we reached down and ran our fingers over the texture in the rocks. Little by little, one step at a time, we made it to the end of the trail that was, by outward appearances, impossible for our group. As the sound of boiling lava hitting the cold water as a backdrop, I looked at the accomplishment on my kids' faces and couldn't have been more proud.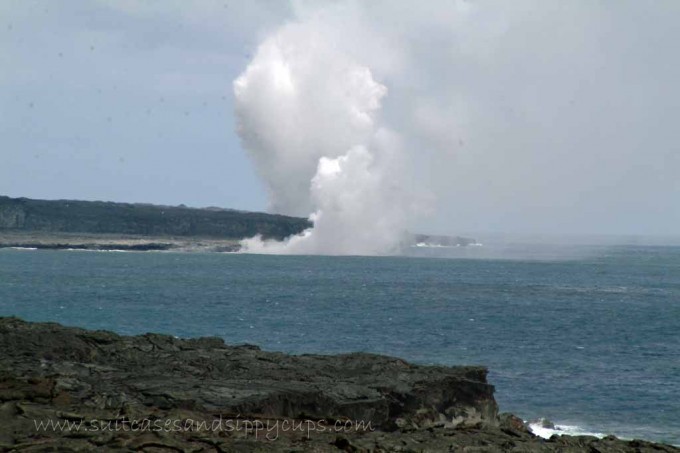 With the heroine and three little heroes (and that guy we brought along to take our picture) staring off into the picturesque view having vanquished our villains, you would think this would be the perfect place to end the story. But, it gets better-and it gets better in a way that even Hollywood couldn't write.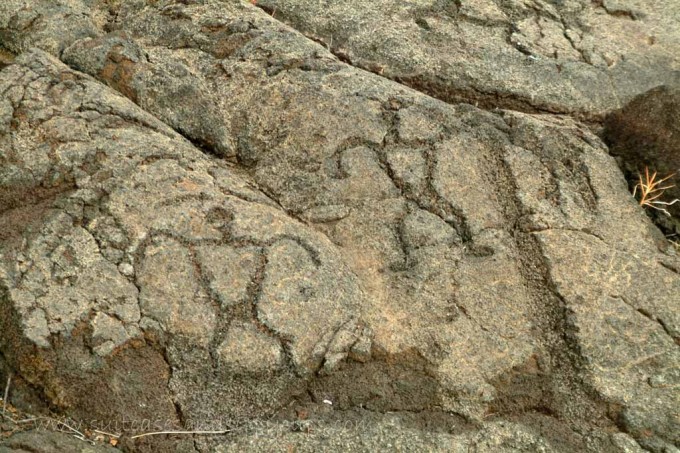 On our way out of the park we stopped at the Pu'u Loa Petroglyph Trail. We hadn't planned this as part of our day, but the lure of seeing petroglyphs at least suggested that we stop and examine closer. A sign at the head of the trail warned that the trail would by a 2 mile round trip hike over rough, hardened lava. The adults of the group were hemming and hawing over whether another hike was really worth it. We had already proved ourselves on the first hike, and really weren't feeling the need for bonus points.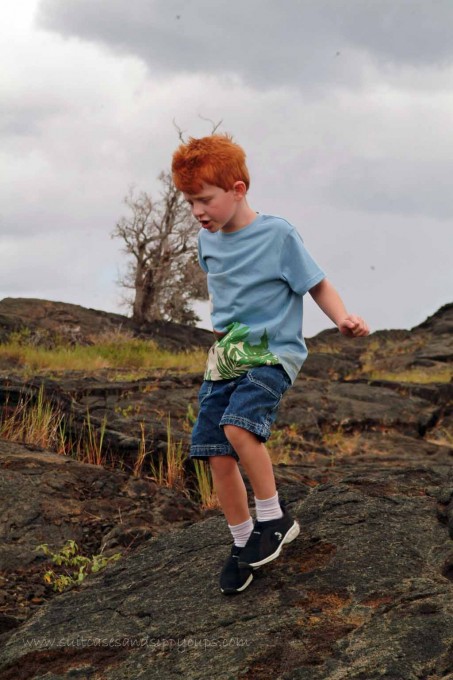 Our indecision was interrupted by the sage and insistent words of our five year old son. "What are you waiting for?" he demanded incredulously. "We're not going to quit now. We are not a family of quitters!" And with that he turned on his heels and began marching his way to the end of the trail, a born leader at such a tender age. I'm not sure he even knew why he was walking down that trail. He only knew that it was another path to be conquered and his family could conquer it.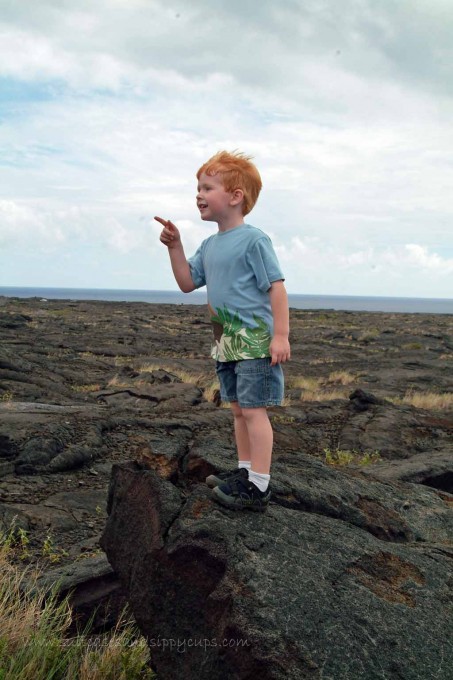 I think my feet practically floated over that two mile trail. So often parenting is a wait and see kind of game. You sweat and toil to teach your children the lessons you want them to learn and hope that someday you get to glimpse the fruits of your labor. Instant gratification is not a part of the parenting grind; it is instead a game of planting the seeds of positive lessons and hoping they don't turn into big fat weeds in the future.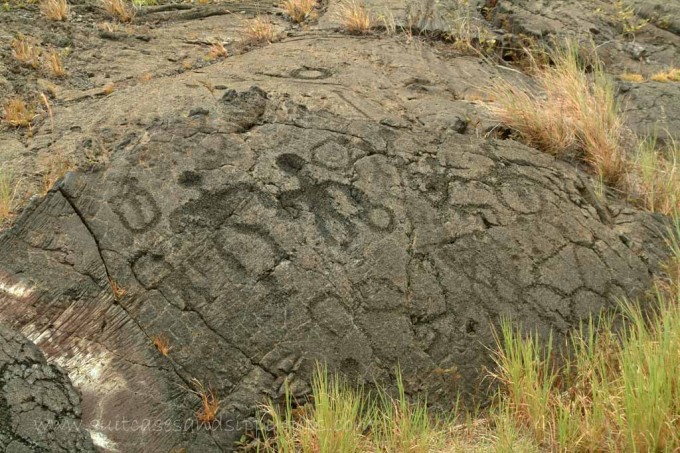 But on that lava trail, I had a shining parenting moment in which I got to see the seeds of perseverance I had planted just moments before blossom before my very eyes. The petroglyphs at the end of the trail were a great reward for our hard work, but the lessons our little family learned that day were the true treasure.
~Today I am linking up with Budget Travelers Sandbox and R We There Yet Mom?