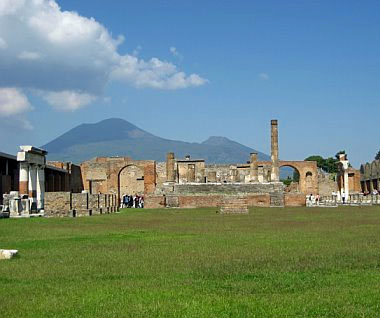 ~The ruins of Pompeii with Vesuvius in the background~
Pompeii is one of those truly magical places that is inspiring and unforgettable. Although it seems like it would be an attraction that appeal only to grownups, it is actually a great family attraction that even little kids can enjoy. Who wouldn't love jumping from rock to rock among the cobblestoned streets and wandering in an out of the maze of houses and streets? These tips will help make the most of your family visit to Pompeii.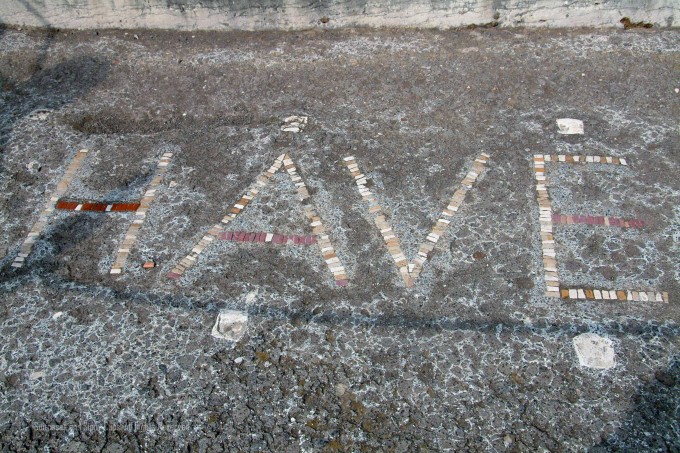 ~Welcome mat outside the House of the Faun proclaims 'Hail to You.'~
Hire a tour guide. This may be the first time I have ever given this advice on this site, but I feel like a tour of Pompeii offers so much value for families that it takes the number one spot. I usually feel like tours are difficult, especially for small kids, because they don't take their needs and attention span into account, but in this case, the tour will make your family visit more enjoyable. Pompeii is a vast city with a labyrinth of streets. You could easily wander the maze of streets and miss the most important parts, but the tour guide will help you hit the highlights before your little travelers grow weary. You can hire a guide right outside the ticket booths to Pompeii. Certified guides will be wearing a badge. You can arrange a price and talk about your interests. Our guide was very sensitive to the needs of the kids and cut his normal tour short to keep their interests. With a few words of Italian at the ticket booth, he was also able to negotiate free tickets for the kids, which helped to defray the cost of the tour.
Bring plenty of water and food. Facilities are limited within the ruins, with only one café that offers average food for inflated prices. If you can bring along a picnic lunch, you will save yourself a mediocre meal, some cash, and plenty of walking if you find yourself at the opposite end of the ruins when hunger strikes. The ruins can be quite hot and with tons of walking you will want to have plenty of water.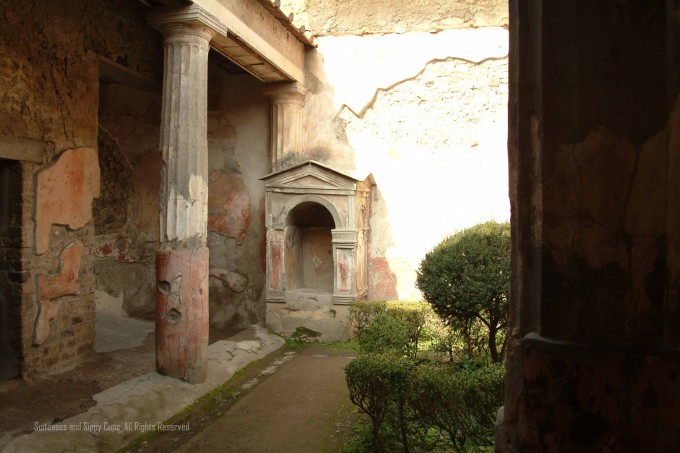 ~A personal altar inside a home in Pompeii~
3. Sunscreen is a must. Shade is hard to come by in the ruins, so you will want to have plenty of sunscreen and other sun protection.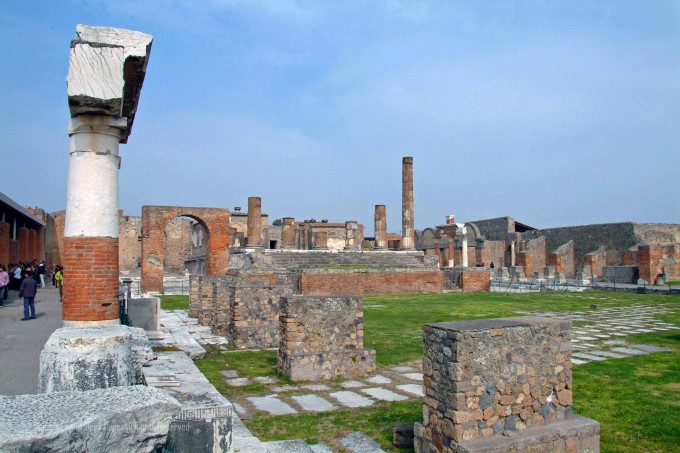 Leave the strollers behind. Stepping back in time to AD 79 means treading along the cobblestone streets. Strollers just simply won't have the success as the Roman chariots, so you will want to have a backup plan if you are afraid that little legs will get tired. Strollers can be checked at the front ticket booth.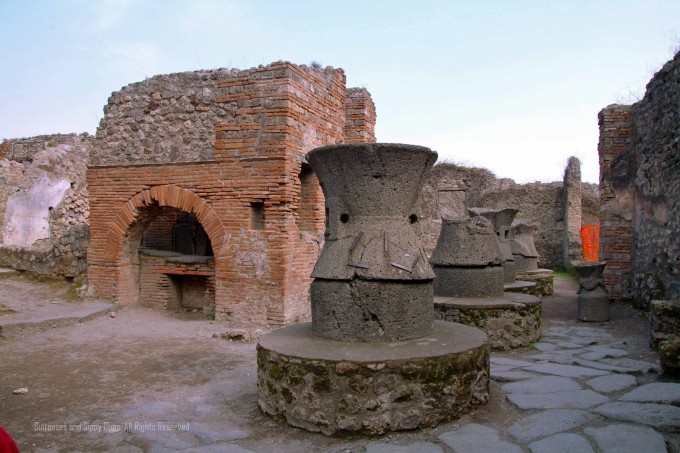 ~Gristmills and Oven in an Outdoor Bakery~
Brush up on your history. Kids benefit the most from a heavy historical site if you do a little prep work before your visit. Fortunately, there are tons of great kids' books that introduce the Pompeii from a historical and a current perspective. The Magic Tree House series (Vacation Under the Volcano) and the The Roman Mysteries (The Pirates of Pompeii) both offer a good light read for kids, while Pompeii, Buried Alive is a great book for early readers. Our favorite book when we were preparing for our visit to Pompeii was Buried City of Pompeii: What is was like when Vesuvius Exploded. The engaging story made us feel connected to the site before we even arrived, and the fantastic illustrations jumped out of the book and came to life once we were onsite.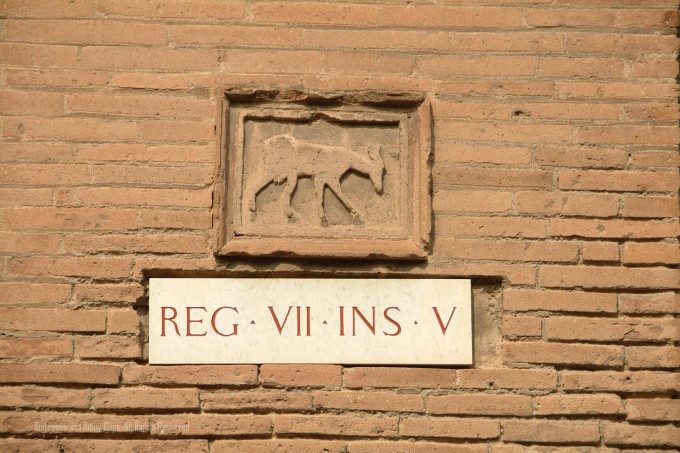 ~Ancient Roman version of a street sign~
Ask for the G Rated Tour. Not much has changed in 2000 years, and the most visited house in ancient times is still the most visited house today-the brothel. Parents may not feel up to explaining the…ummm…ins and outs of the activity depicted in the frescos here. If you would prefer to save that discussion for another time and place, let your guide know and you can easily skip it.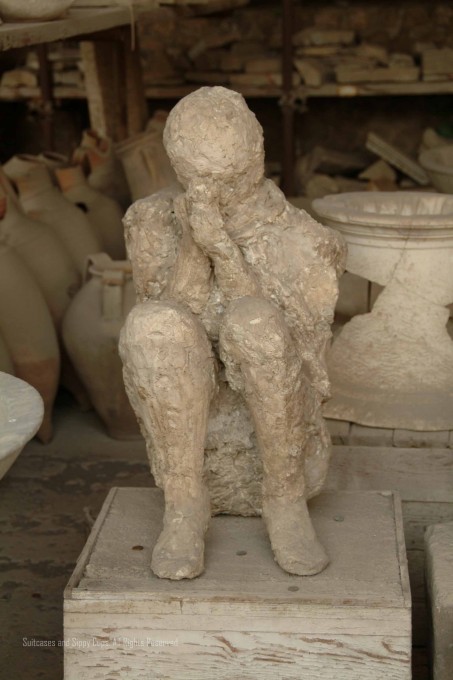 ~One of the many casts of the victims buried in Pompeii~
Schedule a Tour to Naples. If you think the completeness of the ruins are amazing, you will be even more amazed by the artifacts that were removed from the ruins. The majority of those ruins are 15 miles away in Naples. Whether you go before or after your visit to Pompeii, you really need to visit Naples Archeological Museum to get the full picture of the ruins. Naples itself was not my favorite city due to a garbage strike and the museum was not actually well cared for, but it is a must see museum. Just a note-the Naples Archeological Museum also has an R rated room that you might want to avoid with little ones and maybe teenagers.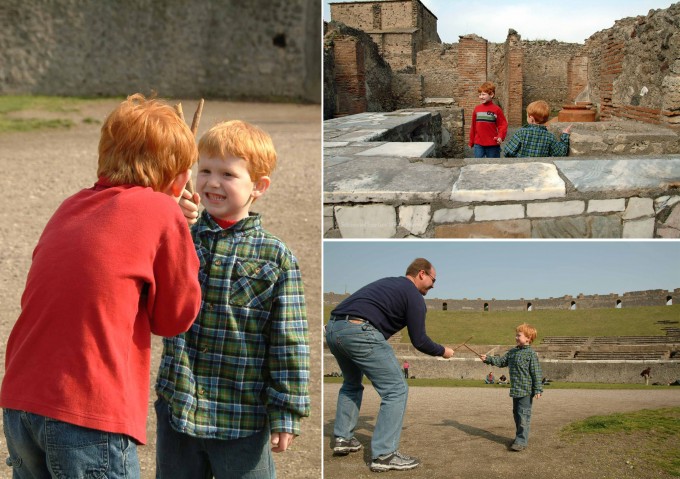 Take time to have a little fun. Even after you read in books about the intactness of the ruins, it will still amaze you what a complete picture of Ancient Roman culture you get from wandering the streets of Pompeii. With kids in tow, it's irresistible to do a little roll playing in the ruins. Let your kids serve you a hot meal at one of the fast food eateries, or challenge your kids to a battle in the coliseum. It will likely be your best memory of the trip.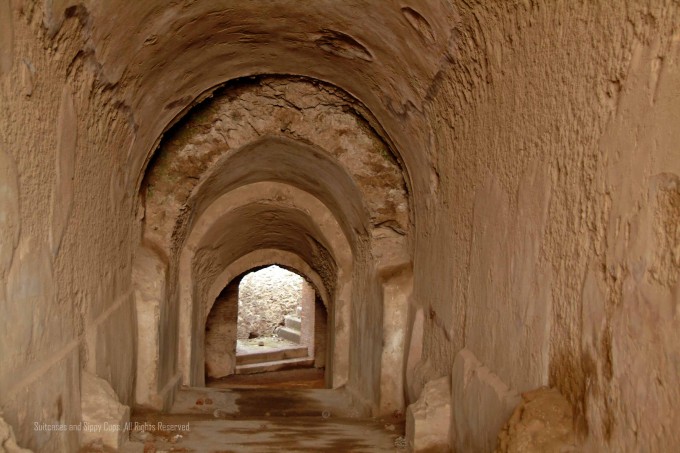 ~Entrance to the Coliseum~
Bring along a window to the past. Pompeii: Monuments Past and Present is an invaluable resource for helping to visualize the ruins in all their glory. A transparent overlay can be placed over a current photo of major points in the ruins, giving you a clear picture of what it would have looked like before the eruption of Mount Vesuvius. Kids love flipping the pages back and forth as they stand in front of each site.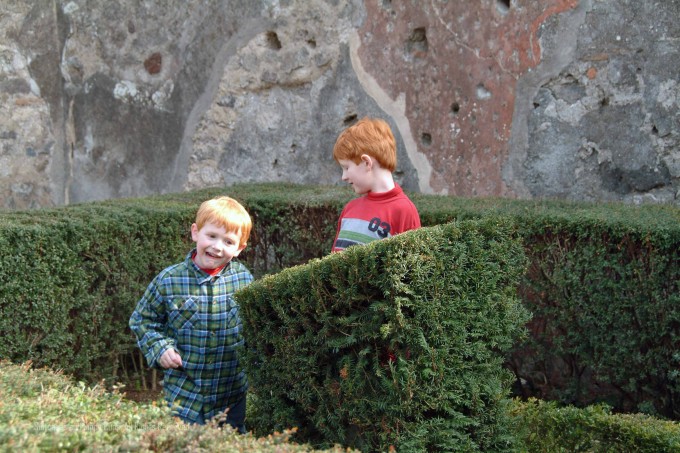 Let the kids take the lead. This is good advice on any trip you take, but especially while in Pompeii. You never know where they might lead you.
Now it's your turn. Link up your best travel tips and join the traveling fun!
~I'll also be linking up with Top Ten Tuesday at Many Little Blessings~