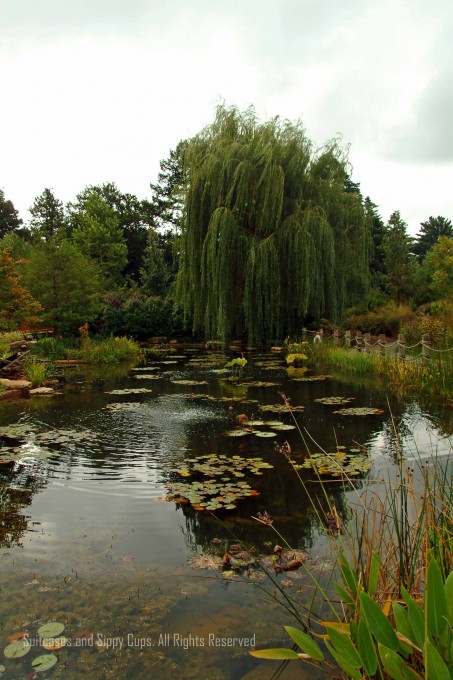 Nature is the perfect teacher, it is said, and we are ready to be willing pupils. I often have visions of us setting out across rolling meadows, carrying magnifying glasses and field guides, all the while bedecked in giant frothy hats and usually speaking with a crisp British accent. (Any guesses what kind of movies fill my Netflix cue?) In reality, it's usually a dreaded tromp through weeds and briars where are closest encounters with nature are swatting mosquitoes and avoiding piles of poop. Of course, a truly talented teacher could make a lesson out of those brushes with nature, but I am often unwilling to be that creative or that nerdy, come to think of it.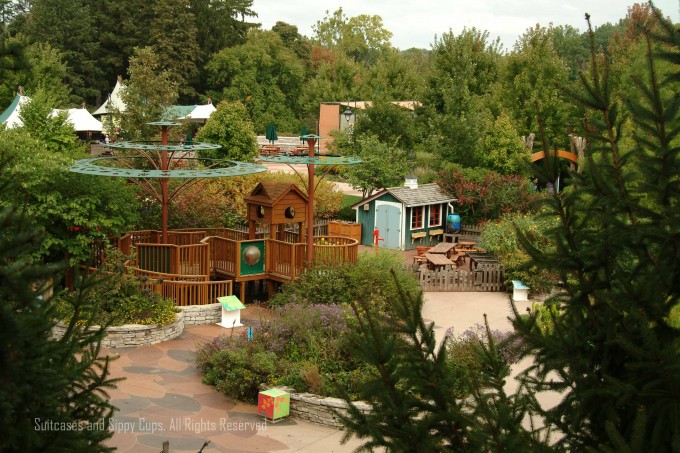 That is why I am always so excited to visit the children's gardens at the Morton Arboretum outside Chicago. Each section of the garden has been purposefully designed so that kids can have open-ended exploration in nature, but ensures that their natural encounters will be meaningful. The Morton Arboretum Children's Garden is divided into ten sections, with each section combining playground features with focused nature study that encourages free play. For my money, a perfectly designed space creates few boundaries and is so interactive that kids don't know they are learning-and Morton Arboretum has done it.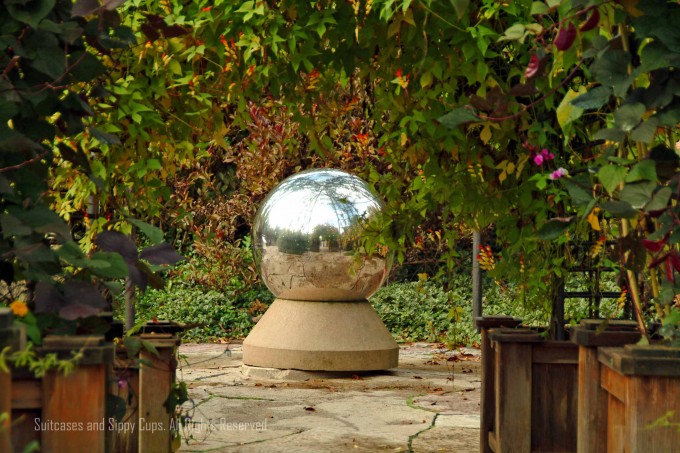 Central Plaza
This area is the pathway to all the adventure in the tree garden, so it is easy to skip quickly through the tree lined path, but the learning starts from the moment you step through the gates. Exploration boxes with open ended questions encourage kids to investigate their surroundings.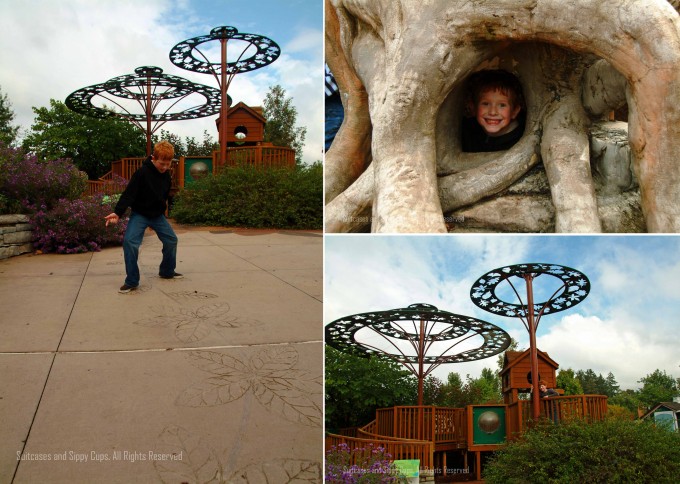 Backyard Discovery Gardens
What adventures wait in your own backyard?
At first glance, it looks like a typical playground, but it is so much more. Kids climb under and slide over a tree's root system, exploring as they run and play. Water features allow kids to pump and move water through pipes and tunnels. Hopscotch along the path introduces kids to leaf patterns and parings.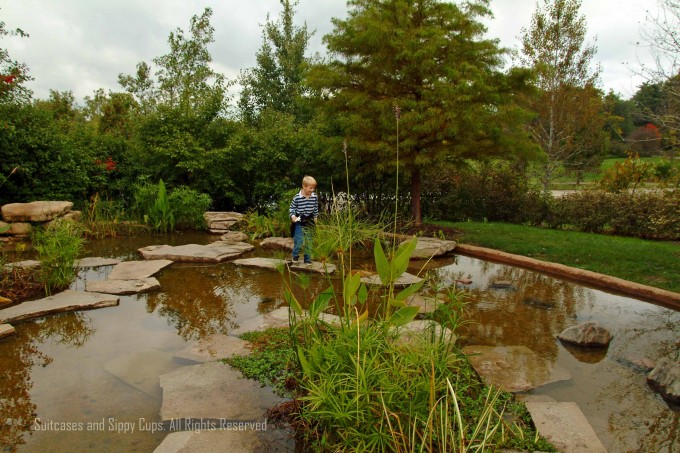 Wonder Pond
Bet you get wet and love every minute at the wonder pond. Step stones beckon kids to skip across the shallow pond and explore the creatures that make their home in the water. The highlight of the garden year is in the spring when the tadpoles arrive at Wonder Pond. Catching cups are provided for kids so they can scoop up a tadpole to explore them up close and then release them back to their home. Other animal habitats, like a beaver's dam are featured where dragonflies dart in and out.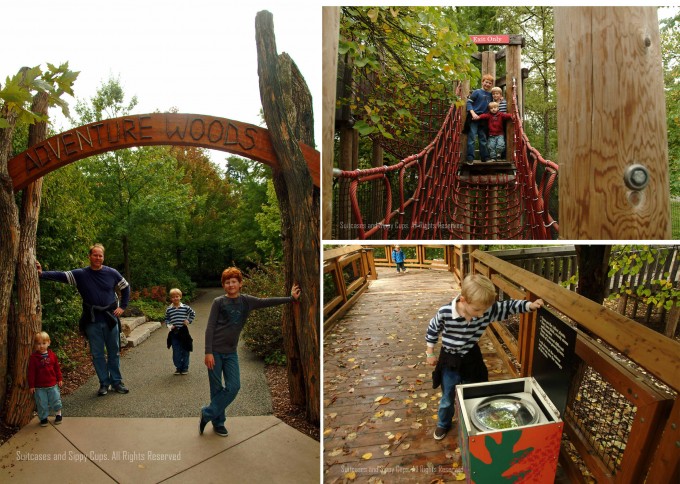 Under the Trees
Trees are made for climbing, and the ropes and bridges connecting the trees are the perfect way to explore. A section for younger kids and a section for older kids ensure that everyone has a place to climb. Don't miss the mirrors that give a unique view of the foliage.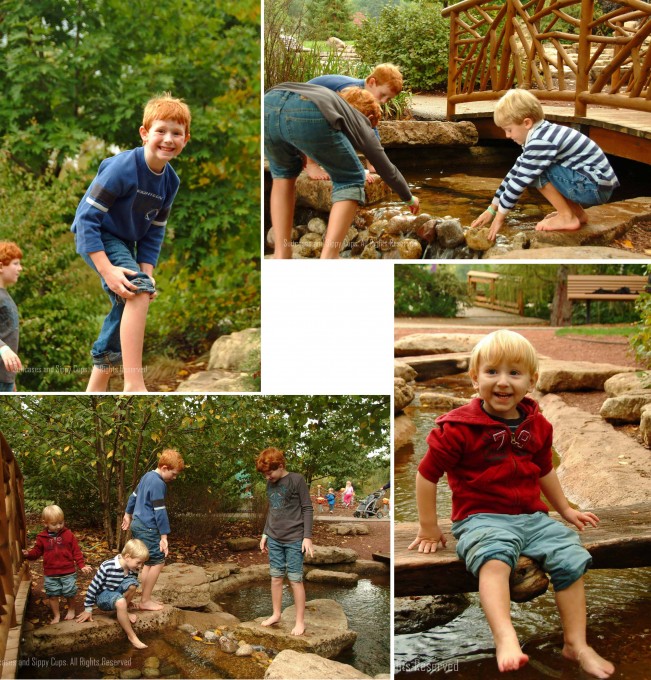 Grotto and Secret Stream
Just when you begin to dry off from the Wonder Pond, you reach the Secret Stream and the shoes come off for wading and water discovery. A bit of hydrodynamic study is happening as kids move rocks and sticks around the stream to create dams and barriers. Splashy science has never been more fun!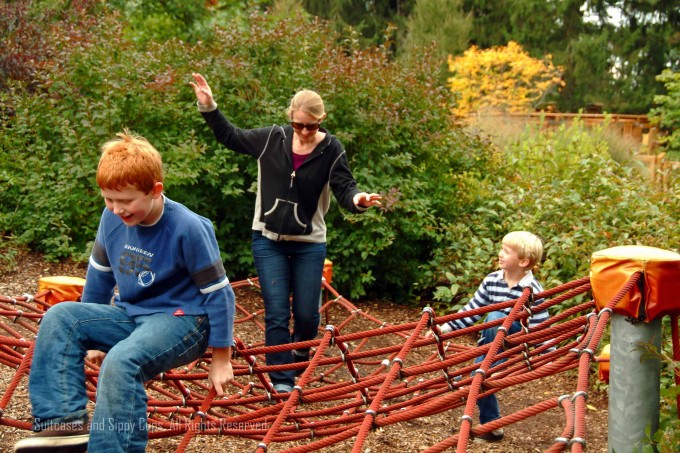 Grassy Meadow
The creatures that call the meadow home have important lessons to teach us about nature and the best way to learn is to step into their shoes-all eight of them. A giant spider web, placed a perfect, safe distance from the ground, is great place to practice your spidey skills. Just watch out for predators.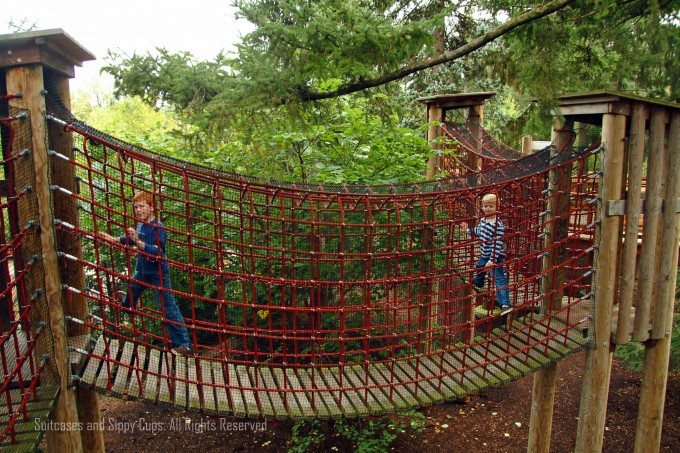 Evergreen Walk and Lookout
What does the world look like from high up in the trees? Climb to top of the soaring evergreens and have a squirrel's eye view. High in the trees is the perfect place to have a snack in the treetops while you check out the creatures that share the space. If you dare, you can take a walk through the ropes that connect the trees.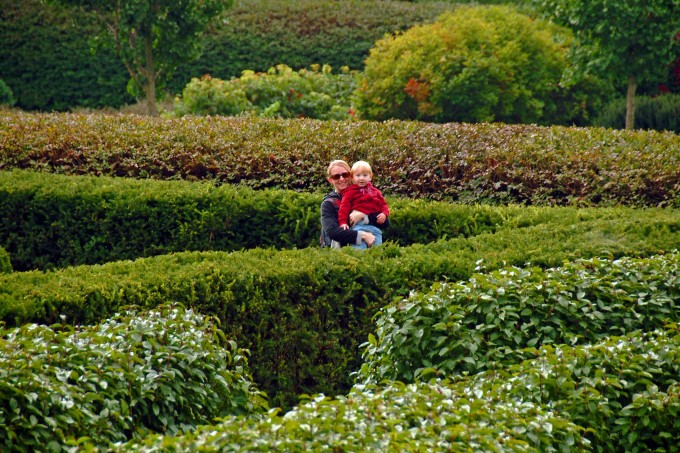 Maze Garden
Can you find your way through this living puzzle? The one acre maze changes with the seasons and offers a challenge to every age. If you prefer to watch, you can climb to the observation tower that is centered around a majestic 60 foot Sycamore tree. A toddler maze sits adjacent to the Maze Garden to give a challenge to even the littlest visitors.