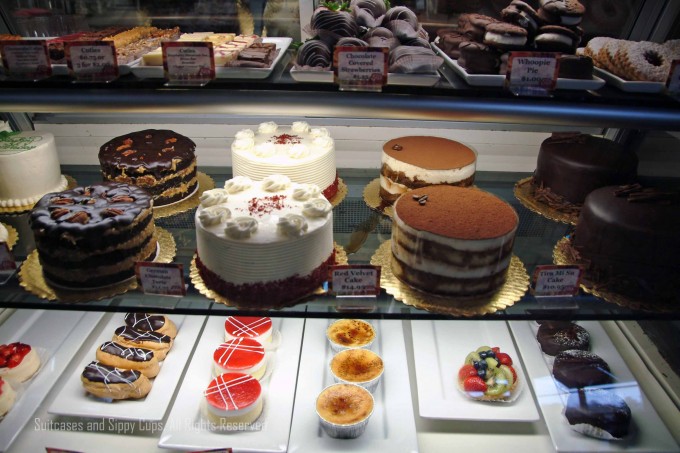 In the culinary world, conventional wisdom holds that Chicago is famous for pizza, hot dogs, and Italian beef. So, it was our plan to seek out the best of this trifecta of gastronomical greats, but after the glut of meat in the quest for pizza and hot dogs, I decided it was very well time for some dessert.
And I knew just the place. Eli's Cheesecake is a Chicago icon and although slices of the creamy treat are served all over the city, you can go directly to the source for the best prices and best selection at Eli's Cheesecake World, just outside the city limits. In keeping with the beef theme of our culinary tour, Eli's Cheesecake was actually first created as a dessert for Eli's: The Place for Steak in the 1970's. The steakhouse has since closed its doors, but the dessert lives on as "Chicago's Most Famous Dessert."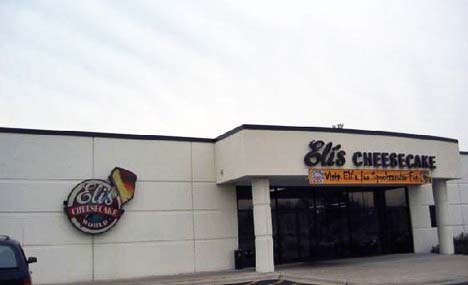 Don't let appearances fool you. The unassuming building, both inside and out, houses a history lesson, a cozy dessert café, and a factory tour. And cheesecake-lots and lots of cheesecake. I suppose it deserves a mention that the restaurant also serves sandwiches, salads, and other light lunch fare, but you will likely never make it to the lunch counter. Upon entrance, the desert counter draws you in with its delicious displays of every cheesecake imaginable and a goodly selection of extraneous dessert delights. Even the most self controlled will be tempted to press their fingertips and noses to the glass while unabashedly ordering one of everything.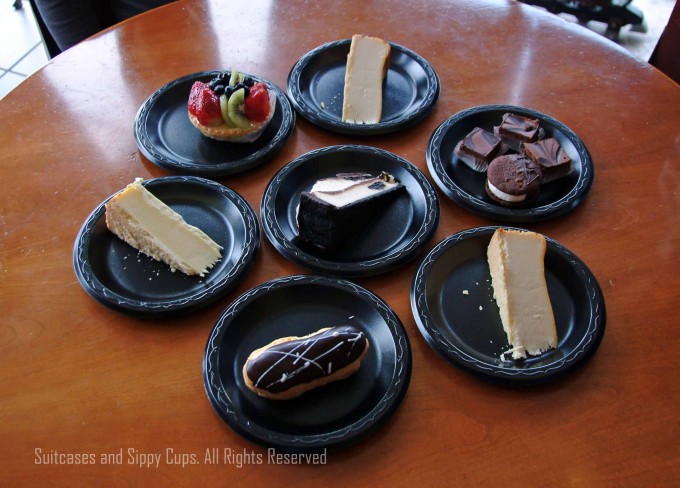 Determined to do the review justice, we ordered several types of cheesecake, an éclair, a whoopie pie, a fruit tart, and brownies. The café often has three or four flavors that are available for to purchase in a sample size-usually 1/3 a slice. It's hard to say which of our choices was the best, but I can easily say that they were all sinfully delicious.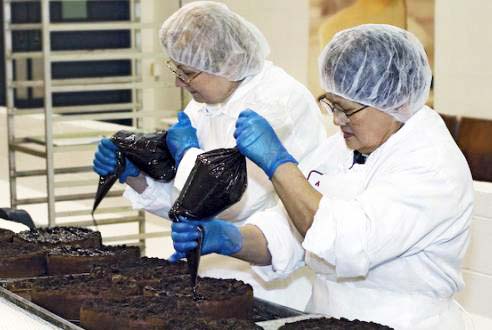 Tours are offered daily at 1:00 pm and are a great experience if you happen to be in the shop around that time, but not exciting enough to plan your day around. Tickets are $3 and include a free sample at the end of the tour. A large part of the enjoyment of the tour depends upon what part of cheesecake production is currently taking place. Some parts are interesting, some parts-not so much. All tours begin with a fairly lengthy slide show highlighting the history of Eli's Cheesecake, so if you are traveling with kids, they might get antsy before the end. Of course, you can always just offer another piece of cheesecake. That will keep them busy for a while.
~This post is a part of Wanderfood Wednesday at Wanderlust and Lipstick~