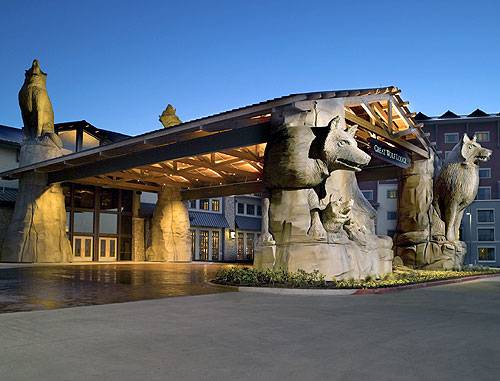 There are so many decisions to make at Great Wolf Lodge. Should we ride the Howlin' Tornado or the Lazy River first? Should we eat ice cream before or after story time? Should we wear our slippers while we're doing our Magiquest or will it slow us down?
There is one decision that must be made before you get to Great Wolf Lodge: what kind of room will be the best choice? GWL offers such a great variety of suite options that it can be confusing to choose which one will best fit your family.
All GWL suites include microwaves and refrigerators and are oversized with the needs of families in mind. The sleeping arrangements and the kid approved themes are the two areas that separate the different types of rooms, so that is what you need to consider to make your decision.
Family Suite
Standard Suites
The most economical choice, these suites still offer plenty of room for the whole family. The King and Queen suites each sleep four, with one large bed for the grownups and a pull out couch for the kids. The Family Suite sleeps 6 with two queen beds and a pull out couch. There is a small half wall that separates the kids' side of the room from the grownups to create a little bit privacy. The base price for any of these rooms is the same, so choose based on your sleeping needs.
Wolf Den Suite
Themed Suites
These suites have set aside a special place inside each room that is just for the kids and stocked it with amenities that kids will love. The kid themed suites are a great way to extend the fun of GWL from the moment you wake up until the moment you turn out the lights. Imagine the pint sized thrill of falling asleep in your own cabin, tent, or cave!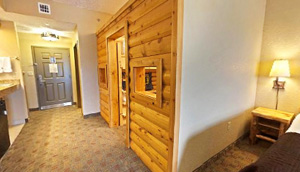 Kid Kabin Suite
There are three different kid themed suites at GWL and they all include a kids-only television that is equipped with video games and kid friendly movies. The Kid Kamp and Wolf Den suites are laid out in the exact same way and sleep six. The Wolf Den has a cave themed kids' area with bunk beds that sleep two. The Kid Kamp has the same two bunk bed configuration, but the theme feels more like sleeping in a safari tent. In each room, there is a queen bed and a sleeper sofa. If you have two kids, either of these choices would be great for the total GWL experience. If you have more than two kids, you will need to figure out how to share the ultra cool kid space with just two beds between them. For a bit more money, you can choose the Kid Kabin, which sleeps three in the ultra cool kid's space, and seven in each room overall.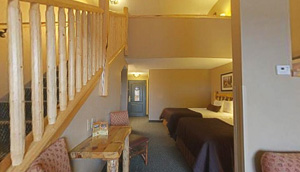 Loft Suite
Premium Suites
The Premium suites offer the most room for your family, with many of them sleeping up to eight people and each having different and valuable amenities. If the kids prefer that the parents close the door at night and offer them a little privacy, you could choose the any of the five different Bear suites that offer a separate master bedroom. Several of more expensive Bear Suite options offer a private master bath as well as an additional bathroom.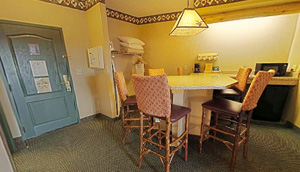 The Majestic Bear Suite offers a breakfast bar that will seat six and is a good choice if you think you will be eating in your room and want a place to spread out. The Majestic Bear Suite also seems to offer the most bang for your buck in the Premium Suite category. Reservations for these rooms book quickly, though, so plan ahead if you want to grab one of these rooms.
~Photos courtesy of Great Wolf Lodge~
~Great Wolf Lodge provided our family with a discount during our stay. They did not require that I express any particular viewpoint and all opinions are my own.~