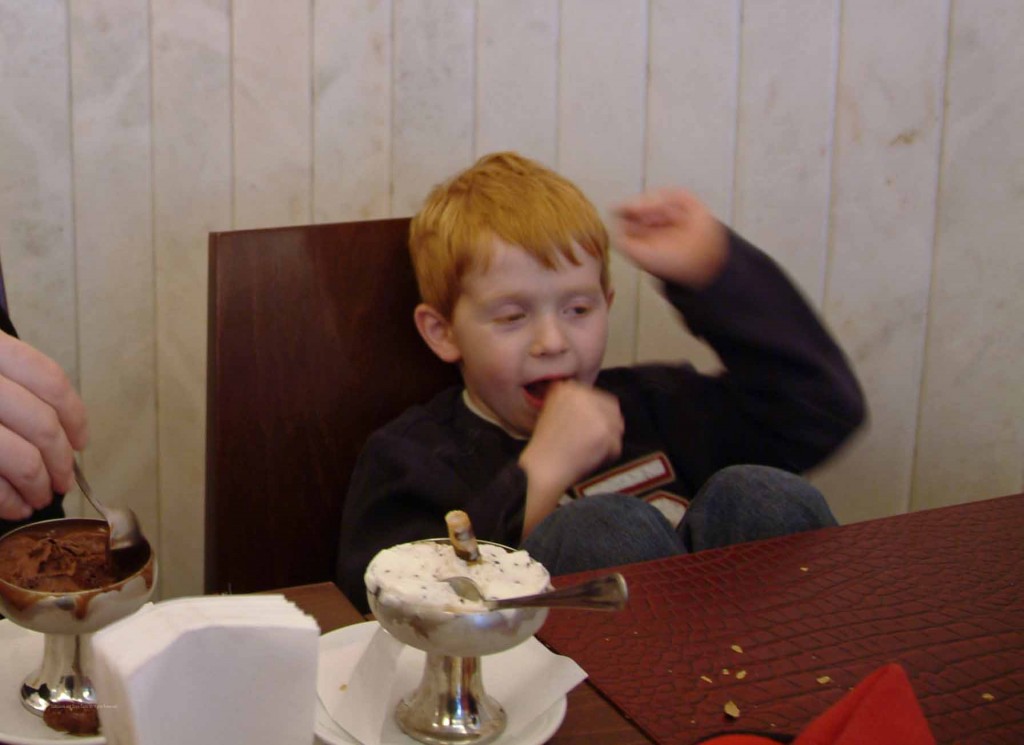 This is the face of jetlag~Even the gelato isn't tempting enough to stay awake
Jet lag can be a major vacation downer, especially if you are traveling with young children. Fortunately, there are easy things that you can do minimize jet lag and maximize the fun at your vacation destination.
Some people like to ease their way into their new time zone, but that can take four or five days. We want to spend as much time exploring our destination as possible, so we take a more 'kamikaze' approach to eradicating jet lag in hopes of getting the most of our time.
Here is what we do step by step to adjust to our new time zone in about 36 hours. We use this for time differences that are more than 6 hours different from our home time zone. We have found that this works for kids three and older. Jet lag, time differences, and babies are a whole different animal and require a different method. This method has worked for our family when traveling east or forward in time.
Day One
1. Book an overnight flight. This helps you in two ways. Long flights are always more manageable if the bulk of it is spent sleeping. Also, the overnight flight will help you to arrive at you new destination in the early morning sunlight, signaling your body to adjust to the new time.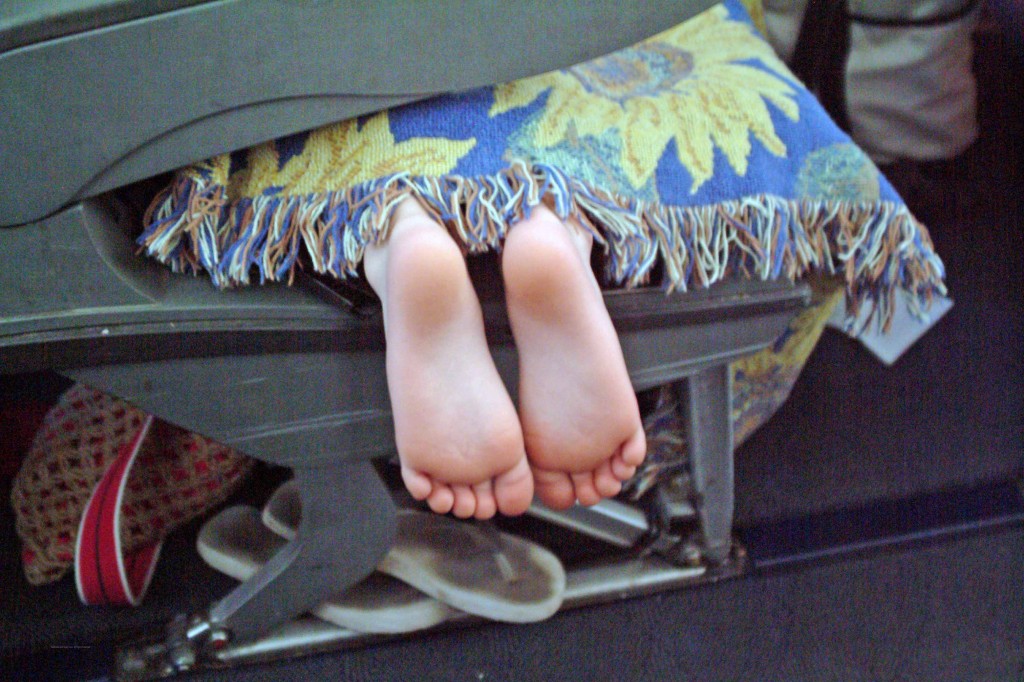 The best way to sleep on a plane
2. Once on the plane, set your watch for the new time zone and begin acting on that time zone. If it is dinnertime in your new time zone, then eat dinner, even if you are not hungry. Mostly, get your brain to forget about what would be happening at home.
3. Try to go to sleep at bedtime according to the new time zone. This can be very tricky, especially with kids, so you may have to do some experimenting with what will work for your brood. The day of the flight, we have had success with getting up very early and staying busy so that the kids are extra tired when it is time for bed. Keep your regular bedtime routine, even change into pajamas to signal kids that it is time for bed. There is a fine art to getting kids to sleep on airplanes, and it may take some trial and error to get it right. Eventually, they will sleep.
4. When you land in your destination, it is time to put the acting skills to work. It will be morning, so wake your kids cheerily and pretend as if you all had the most restful sleep of your life. Truthfully, you will not be well rested at all (I told you would need to act) but fake it till you make it is the mantra for the day. The excitement of arriving will be enough to propel you and the little ones off the plane and into the bright sunshine outside.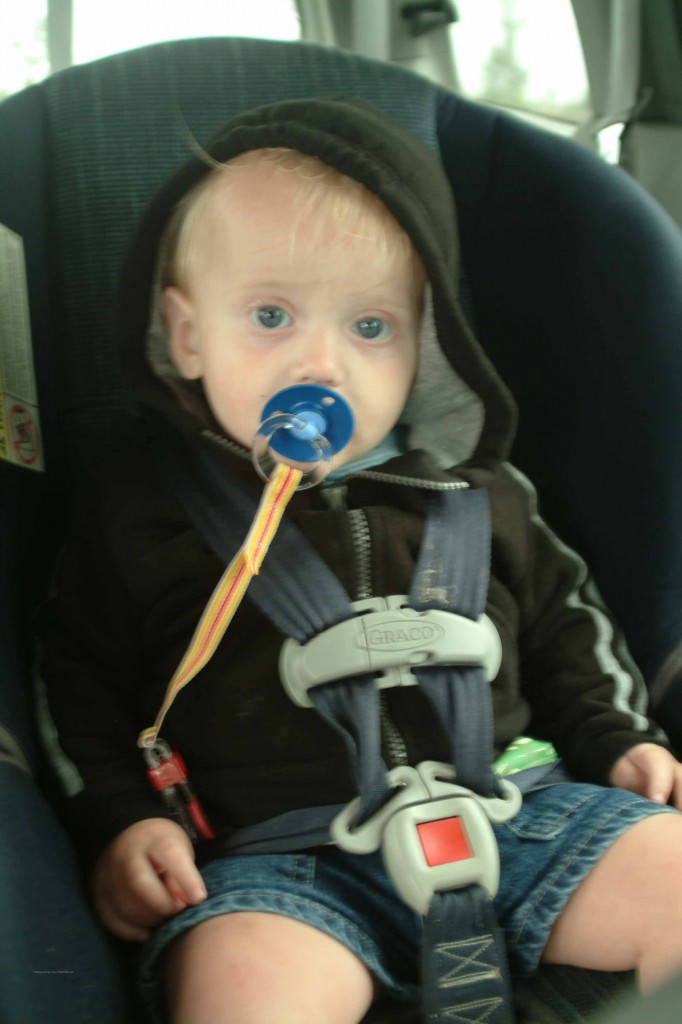 Another jetlag casualty
5. Careful itinerary planning is important on this first day. Your goal is to get as much sunshine as possible and stay as busy as possible for as long as possible. Ideally, you and your whole party will be able to power through the day until dinnertime, when you will eat and then crash into bed.
6. Choose an activity that will allow you to be outside, if possible and will keep you moving. This is a great day to visit an amusement park or a garden.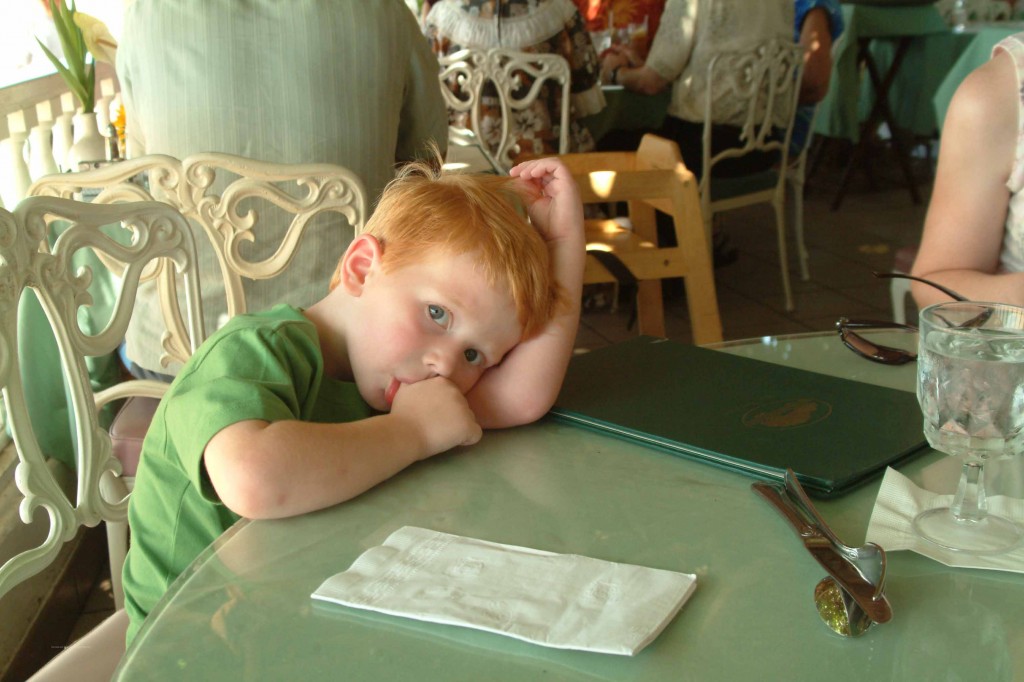 It's lunchtime? I thought it was bedtime!!!
7. Plan to begin to feel really, really tired about midday. Have some lunch and see if you can keep going a bit longer. If you and the kids are reaching the breaking point, this might be a good time to head to the hotel and take a short nap. Try to keep it to less than an hour and then get back up and head outside again.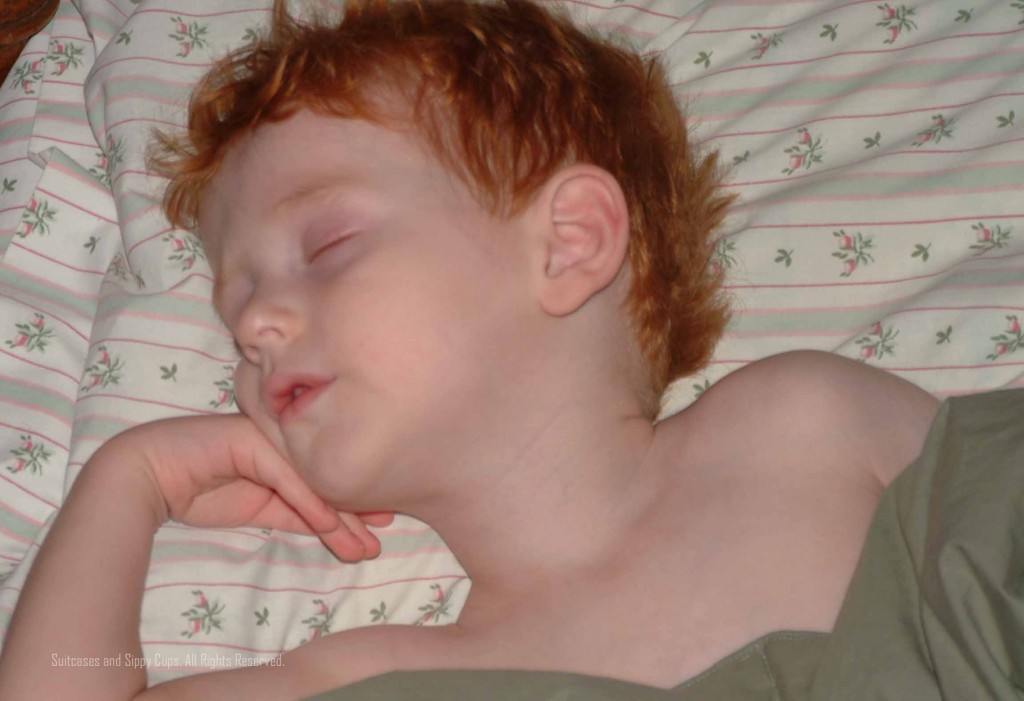 Sleep, Sweet Sleep
8. Eat dinner at your normal dinnertime according to the new time zone. If you can make it another hour past dinner, great! If not, collapse into bed and enjoy your well earned sleep.
Day Two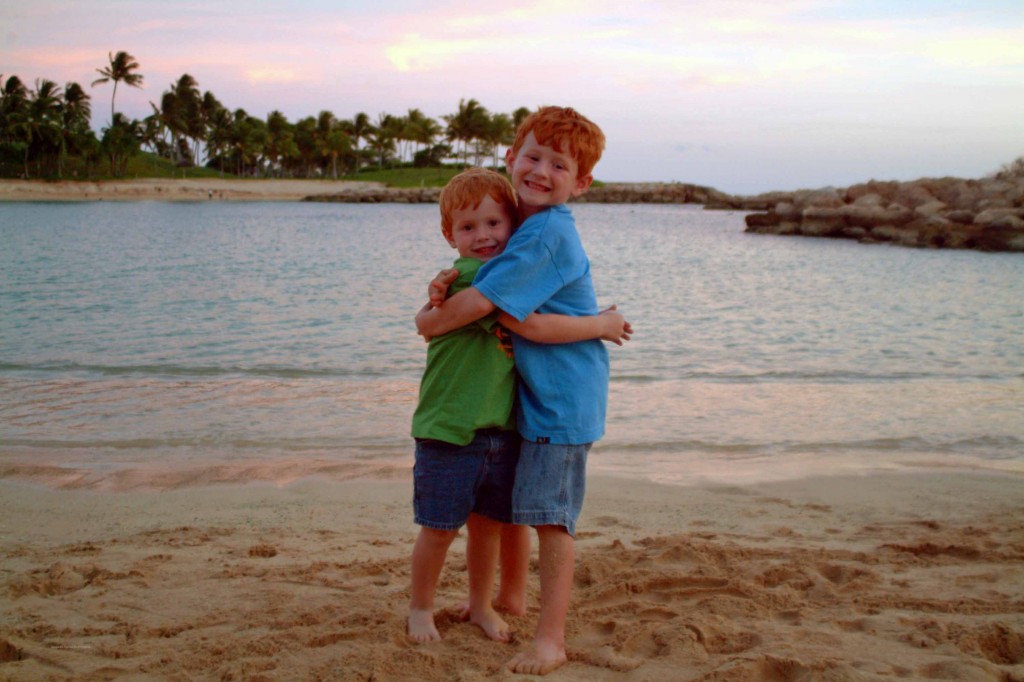 A Hawaiian Sunrise Courtesy of the Jetlag Fairy
1. The next morning you are going to wake up early. We have found that the kids are able to sleep later than the grownup usually, so enjoy that quiet time to get your shower and get ready for the day.
2. Once the kids are up, it's time for another fun filled day. Think carefully about how you will use this very early day. The early morning hours are an extra special treasure for the traveler. You may want to go to a popular outdoor site and watch the sun come up and enjoy being virtually alone. Maybe you want to have a leisurely breakfast soaking up the culture and then you will still have time to be first in line to one of the main attractions. Whatever you choose, enjoy being the early bird and use it to your advantage.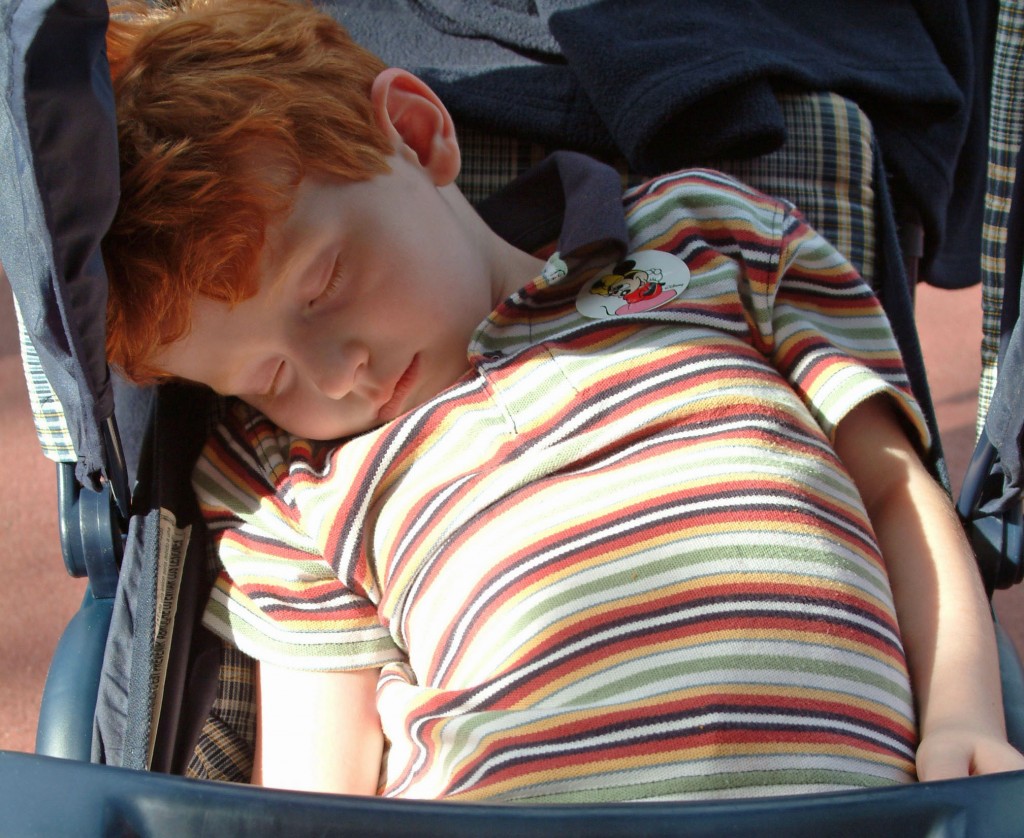 A Power Stroller Nap
3. If you feel like you need a nap for you and the kids again today head back to the hotel before lunch. Take a one to two hour nap and then wake for lunch and more sightseeing. If you are going strong, but your little ones are fading fast, you may take advantage of a stroller nap and a semi-grownup tour of an art museum or other place that would not interest the kiddos.
4. After your nap, you should feel refreshed enough to make it past dinner to a more normal bedtime. Expect bedtime to be at least one or two hours earlier than normal, but much closer to normal.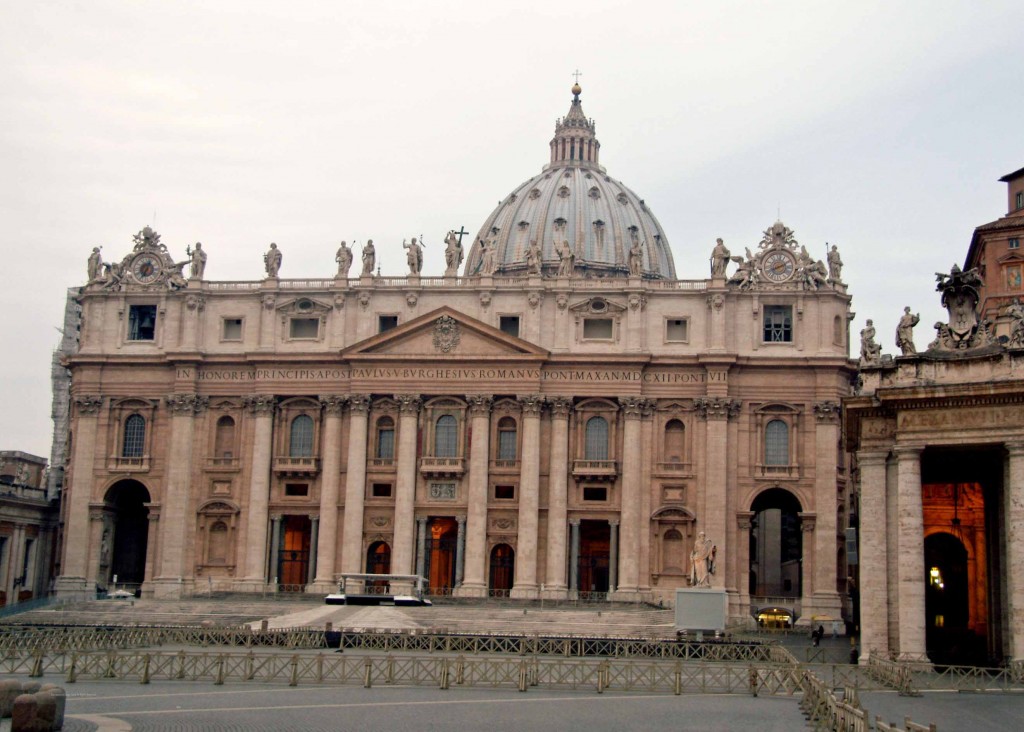 A Serene View of St. Peter's Cathedral at 6:00 am
5. The next morning, you may wake slightly early, but you should find that you have acclimated to the new time zone and are free to enjoy your vacation.
This post is a part of Top Ten Tuesday at Oh Amanda. Today I was feeling like an overachiever, so I actually gave thirteen tips. I'll be sure to slack off tomorrow proportionately.