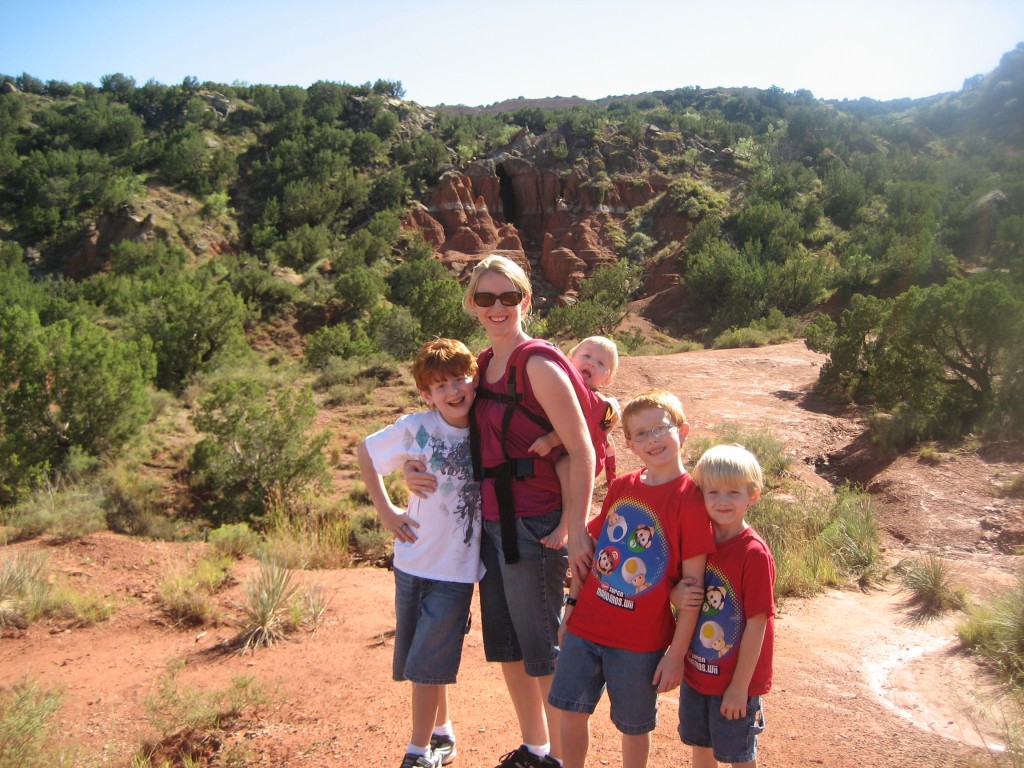 Me and my boys hiking Palo Duro Canyon
Every traveler has a unique personality. Some travelers love the excitement of stepping off the beaten path. Others can't wait to soak up the culture of a city and live like a local. Still others can't wait to kick back and relax as they truly embrace the idea of a vacation. And then there's us. We have our own traveling flair.
1. We are budget travelers. I think one of the biggest myths of traveling is that you have to have tons of money in order to do it. And really if you read many travel blogs, you may start to believe that is true. You will see people traveling with nannies, staying in five star hotels, and eating at top rated restaurants every night. This is not our traveling reality. We live on a budget and we travel on a budget. That means that we stay at hotels that you just won't find in a guidebook. Usually, they are safe and clean, but also old and out of the way. We save money on food and attractions, and we hoard our airline miles and hotel points for our bigger trips.
A chilly sleigh ride in Quebec
2. We are contrary travelers. This is an industry term that means that we go against the traveling grain. We never travel during peak season or peak hours. We avoid traveling during summer vacation, spring break, and weekends like the plague. We get up early to be first in line at any major attraction, and enjoy the quiet hours to ourselves while everyone is still sleeping. We also eat our meals at nontraditional hours. Usually, we eat lunch at 11:00 and dinner at 4:00. By doing this, we avoid lines at the lunch counter and get the best seating available at dinner. What's even better is that while everyone else is eating at noon, we are back in a short line for another ride, or enjoying the exhibits all to ourselves. We have so ingrained this traveling habit in our children that they regularly rate the enjoyment of an attraction by the size of the crowd. "This was a great place, mom. There's hardly anybody here!"
Exploring Mount Kiluaua in Hawaii
3. We 'cheap eatin' travelers. We have always been eat to live, not live to eat kind of people This is even more true when we are traveling. Because we have a slightly larger than average size family, our dining budget can be the difference between taking a trip and staying home. While admission prices and hotel rates are more or less set in stone, dining is one area where we can squeeze a little and make a big difference in the overall price of the trip. It's really a matter of planning ahead, and a willingness to eat breakfast from your suitcase and brown bag it for lunch every day.
The benefits of eating sack lunches and dinners are more than just for your pocketbook. If anyone in your family is a picky eater, you can be sure that you have something that will fill their tummy without whining and complaining. Also, you save tons of time by not needing to stop your sightseeing to find somewhere to eat. Once we were on a bus tour in Rome and we were on a lunch break. All of the other people on the tour spent that hour and a half traipsing around looking for a lunch counter. We jumped off the bus, pulled out our sack lunch, and our boys spent the hour playing on the ruins of an ancient Roman bathhouse. When our fellow travelers dragged themselves back to the bus, they were green with envy that we had time to tour the bathhouse and were rested for the afternoon. At that point we didn't think it was fair to tell them that we had also saved about $40 on lunch.
Riding down into Royal Gorge
4. We are whirlwind travelers. We are the poster family for people who need a vacation from their vacation. If we invest the time, money, and energy to get to somewhere good, we want to see it all. Who knows if we will ever make it back, so now is the time to see it. I am a detailed itinerary planner, spending hours perfecting the schedule so that we can squeeze every minute out of our day. When we get to the end of the day, we are tired. Sometimes there are moments when we get to kick back and relax, but mostly it is go-go-go all day. At the end of every trip, as we are dragging our battle weary bodies home, I always tell my husband that I regret all that we missed. He usually laughs at me, but he agrees.
Getting ready to tour a mine in Colorado
5. We are 'do it yourself' travelers. Generally speaking, we don't join tour groups or bus groups or any other groups of travelers. We have never used a travel agent. Tours and talks are a fascinating way to learn about an area, but they are often hard for children because they set a pace that does not allow for snacking, napping, potty breaks, and the occasional total meltdown. I make up for this by researching attractions and sites thoroughly. I keep a notebook of all the places that we will visit, and highlight the bits of information that I want to share as we are touring. So, I am the tour guide for most of our trips, and the kids are more or less receptive to this, although there is some eye rolling from time to time.
Dawn Balloon Launch in Albuquerque
6. We are dedicated travelers. Let's face it. Traveling with children is hard, sometimes really hard. Kids get sick on the airplane, or have a meltdown in customs, or stay up all night with jet lag. And that's just the first 24 hours! But, we decided long ago that we wanted to experience all the world has to offer and we wanted to do it with our kids, making lifelong memories along the way. Sure, I can tell you "horror" stories of moments on trips that will go down in family lore. But, I can also list memories that I wouldn't trade for anything. In fact, if you asked me to list my top ten memories of all time, they would all involve my kids and traveling. So, despite the difficulties we will keep saving our airline miles, making our itineraries, and making family memories.