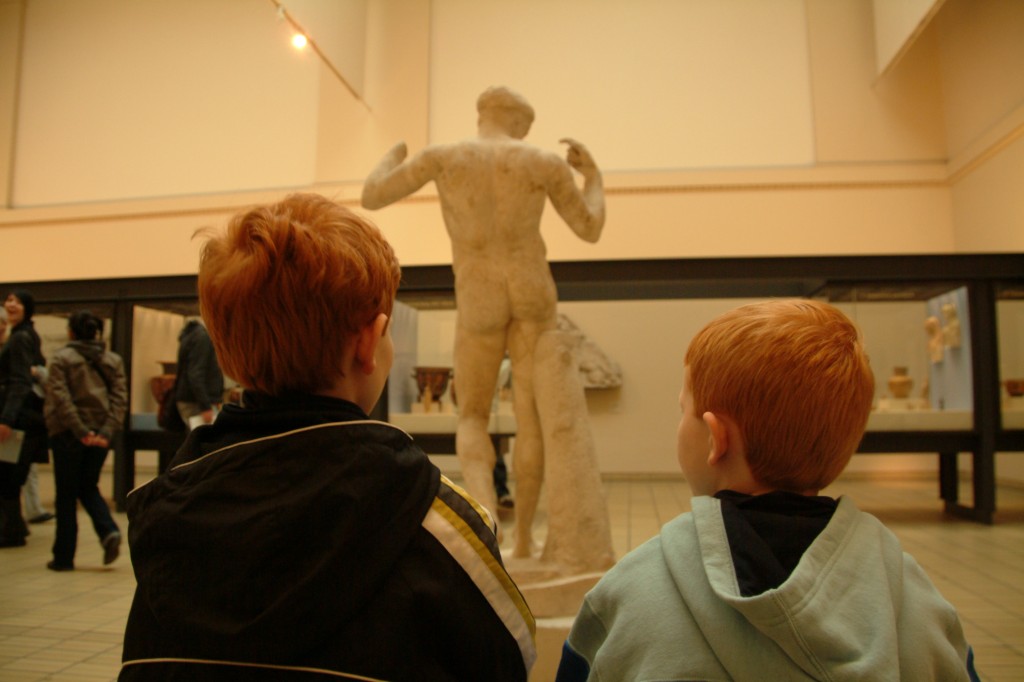 After our inauspicious arrival in Athens late the night before, we began a bleary eyed, but hopeful new day. To immerse ourselves in the antiquity of Greece, we planned to spend the morning at the National Archeological Museum of Athens. Traveler reports had cautioned that the museum was not well suited to children, but I had not traveled all the way to Greece to miss out on one of the most important museums in the entire world, thankyouverymuch.
16th Century Mask known as the Mask of Agamemnon
Once inside, the museum held treasures so ancient that it inspired awe. Every corner housed a paragon of antiquity, including the oldest artifact I have ever seen personally ( an Egyptian sistrum, dating from 4000 B.C). The sculptures, the bronzes, the exquisite vases. Oh, it was a historical heaven, if you are a grownup (and maybe a history geek). If you are a five year old boy, it was a rusty, musty, neverending walk through the seventh layer of hell.
13th or 14th century painting from Tiryns
Not only was the subject matter less than thrilling, but this museum was the worst I have ever been in for not wanting kids to touch. Not touching exhibits, I completely understand, and luckily my boys are great at understanding this rule. But even touching the glass cases was off limits. If the kids got within twelve inches of any glass case, a guard would gruffly ask them to step back. On the rare chance there was a modicum of interest in any artifact, it would be stopped before the boys could get close enough to care too much.
760-750 BC Geometric Monumental Grave Amphora from Kerameikos
Normally, not only do I insist that my kids accompany me to museums, but I sadistically expect them to actively participate in learning about the exhibits. On this visit, I decided to cut them some slack before the quiet foot dragging and grumbling turned into loud wailing and whining.
140 BC bronze statue found in a shipwreck off the island of Evia known as the
Artemision Jockey
"Okay," I announced cheerily, "you can find a bench and sit down, but you have to sit quietly while mom and dad look." Both boys were instantly relieved at the chance to rest their weary feet and scrambled to the nearest bench. Soon, I heard stifled snickering, so I wandered over to the bench to see what was so humorous. The bench had been placed in an unobtrusive part of the room behind an Etruscan statue that was, of course, naked. Sitting a few feet from a naked butt is just not something two little boys can do seriously.
2nd Century BC theater mask found near Dipylon Gate in Athens
I pragmatically shrugged off the silliness as we moved on to the next room. Like a missile, the boys sought out the next bench with more giggles, as it was also located behind a classical statue and his classically unclothed derriere. "It's another bum bench," one of them said through giggles.
5th Century Greek Amphora
There is something to be said for knowing your audience, so I took advantage of the opportunity. With a completely straight face, I sat down and said, "In the first room the Etruscan bum was rough with sharp edges." As a testament to my dedication to education, I continued the lesson. "Here, you can see that the Greeks gave more smooth and lifelike attention to the bums of their sculptures. See how polished and shiny it is?"
The giggling continued, but the intrigue grew, as it became a game to play. Enter a room, find the bum bench, talk about the evolution of the bum from the previous rooms. The bronze medium used by the Greeks allowed for more detailed bums. The contrapposto pose of the later Greek sculpture produced the most realistically perfect bums of the era. On and on I went.
350-325 BC funerary sculpture of the warrior Aristonautes found at Kerameikos in Athens
In all my classes where I was taught how to teach, never did I think I would approach a topic in quite this way. I did learn that children must be taught in a way that combines the new knowledge with current interests. On this day, we all learned about the evolution of ancient sculpture combining my knowledge of art with their interest in…well, bums.