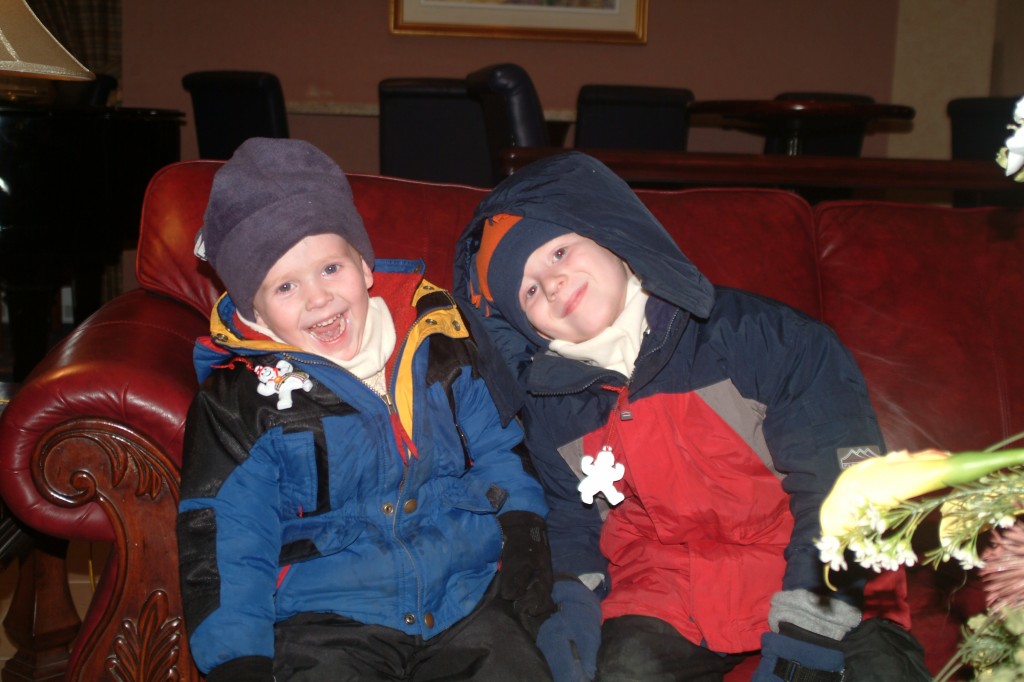 Sometimes what begins as a surprise for the children, turns out to be just as thrilling for the parents. For a while, the older two boys had been making requests for our next trip. They wanted to go somewhere with snow, which is very rare here in Texas. And they wanted to go somewhere where people speak another language. The Winter Carnival in Quebec was a perfect fit for their little desires, so we began to plan a long weekend. Normally, we share our travel plans with our kids in advance, but we decided that this trip should be a surprise.
I packed everything in the hours after the boys were sleeping, and made excuses about the winter gear purchases we were making. On the day of our flight, Gary packed the suitcases in the back of the car and covered them with blankets. The boys wanted to know where we were going, but we danced around the issue for trip to the airport. I have to admit, the excitement in the car for mom and dad erupted into almost giddy laughter from time to time. Although the boys thought we were out for an ordinary errand, we knew we were embarking on a new adventure. Thanks to the naiveté of being six and four, they did not put the pieces of the puzzle together until we were standing outside the car in the parking lot of the airport waiting for the shuttle.
"Are we going somewhere," one of them finally asked. With a flourish, Gary opened up the trunk and began pulling out the suitcases. "Where are we going, where are we going," they chanted together. Finally, I let the cat out of the bag. "We are going to Quebec. It's in Canada and they have snow and speak French." The boys alternated between shock, disbelief, and giddy excitement. As we boarded the plane, and the boys had their heads close together whispering excitedly, I floated down the jet bridge just a bit and couldn't wait to get started.